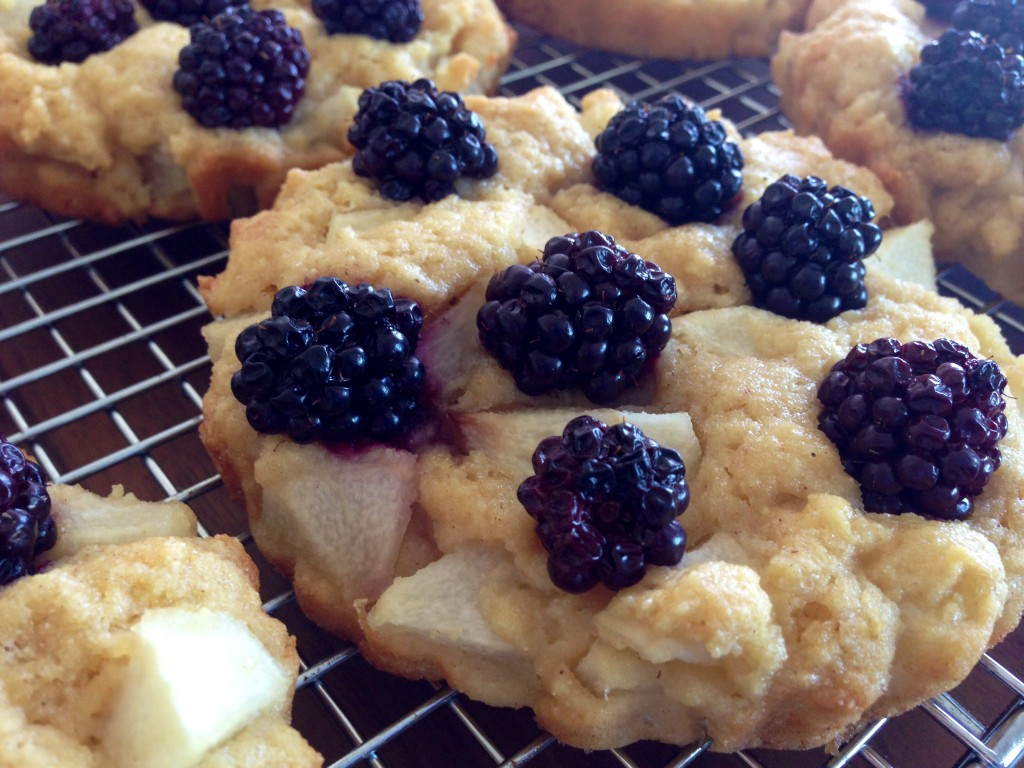 These mini tartes are great for Sunday brunch or served for dessert with a scoop of coconut cream or vanilla gelato. They are 100% vegan and 100% delicious!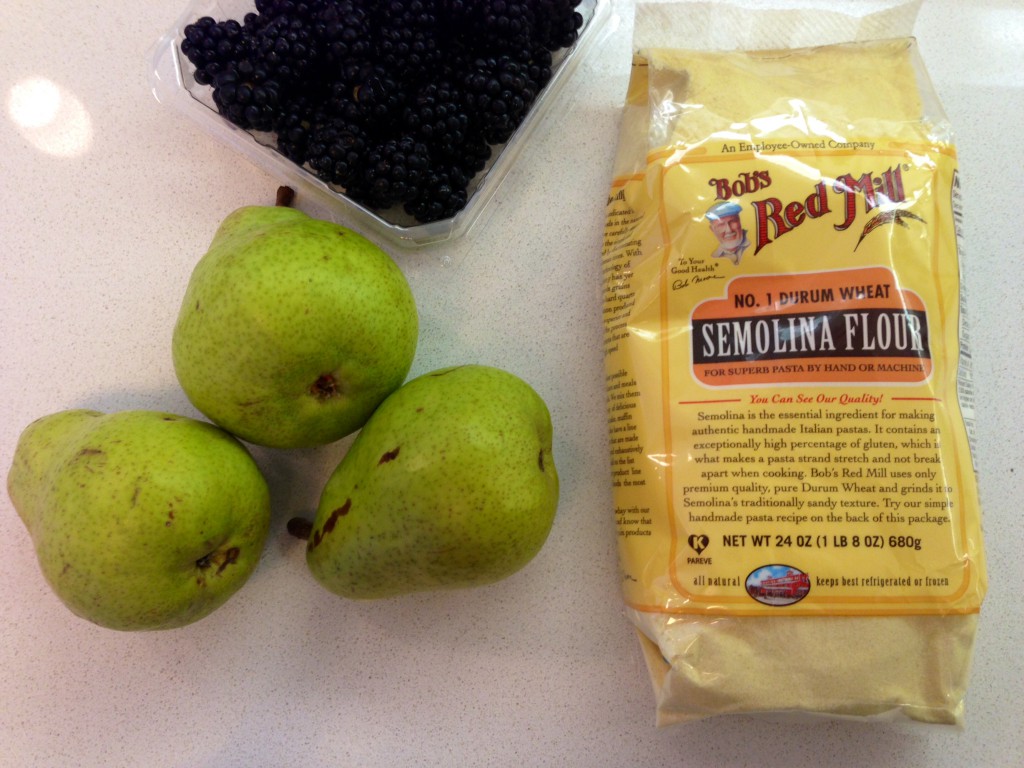 I used semolina flour which is a coarse ground durum wheat flour that gives these simple mini cakes a golden color and a tender texture.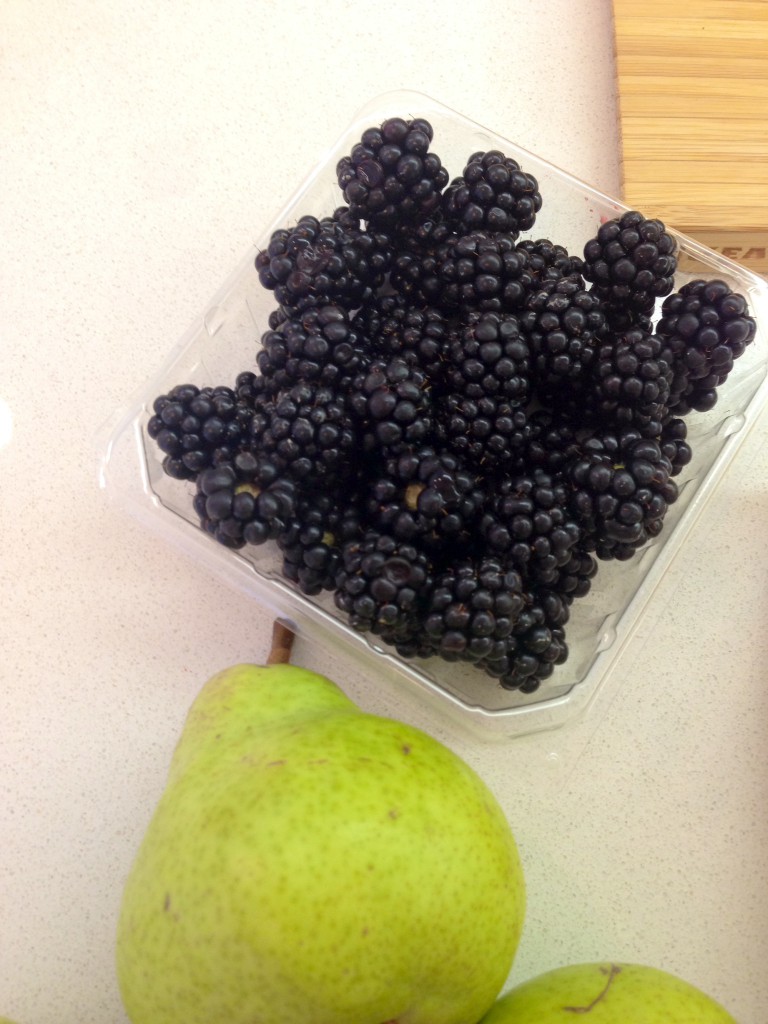 I got fresh organic blackberries at Whole Foods… Frozen will work as well. And you can use any kinds of berries for the top. Make sure the pears are not too firm anymore and have softened already a bit…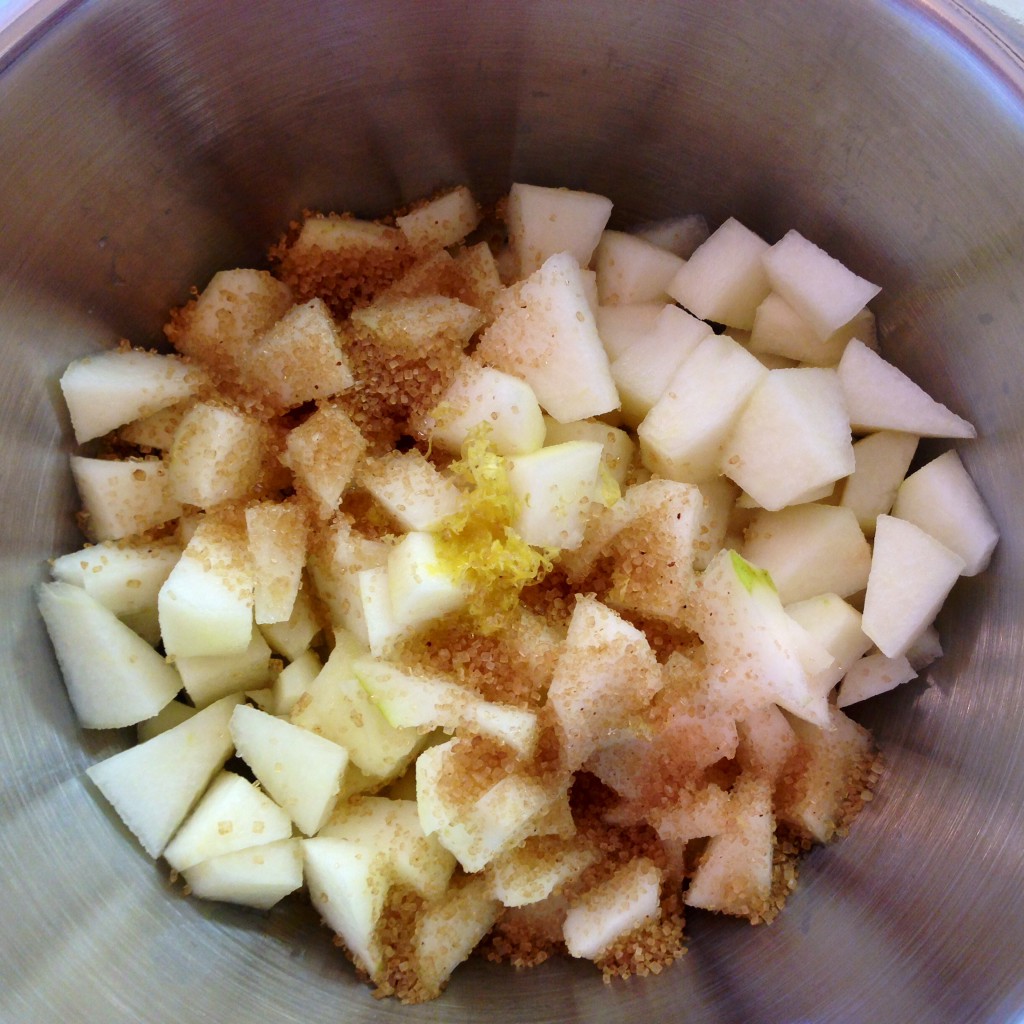 Sprinkling lemon juice, lemon zest, and turbinado sugar over the cubed pears will enhance their flavor. Combine everything and set aside.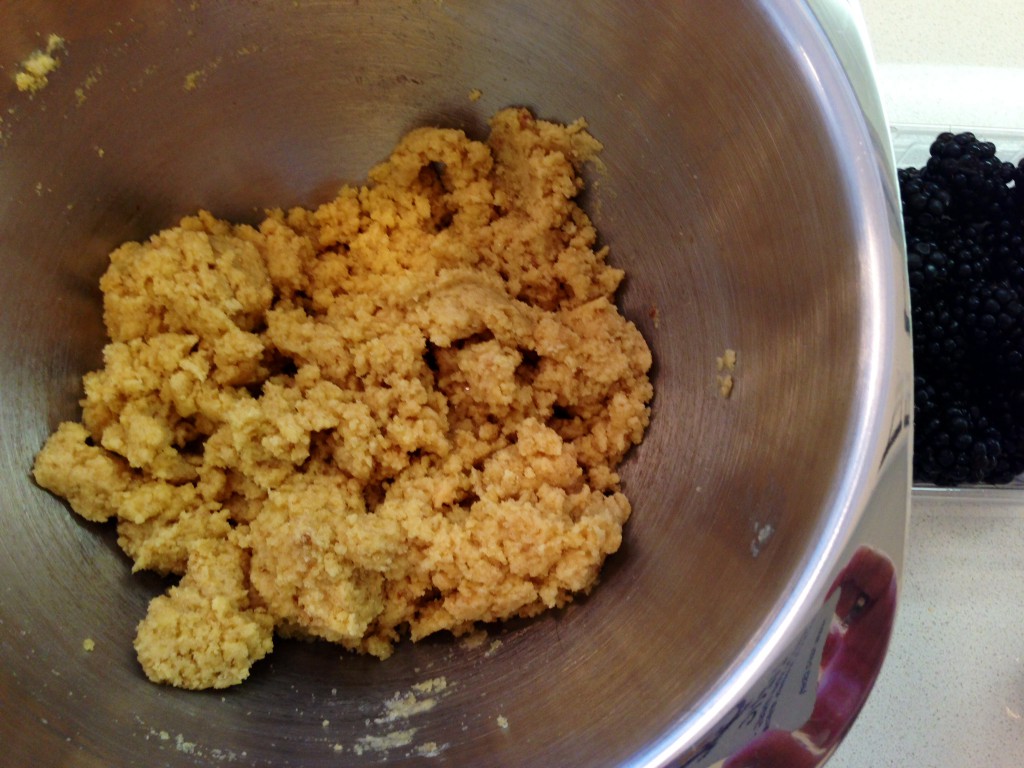 This is how the batter will look like before you mix in the pears. Pre-oven shot before topping the berries: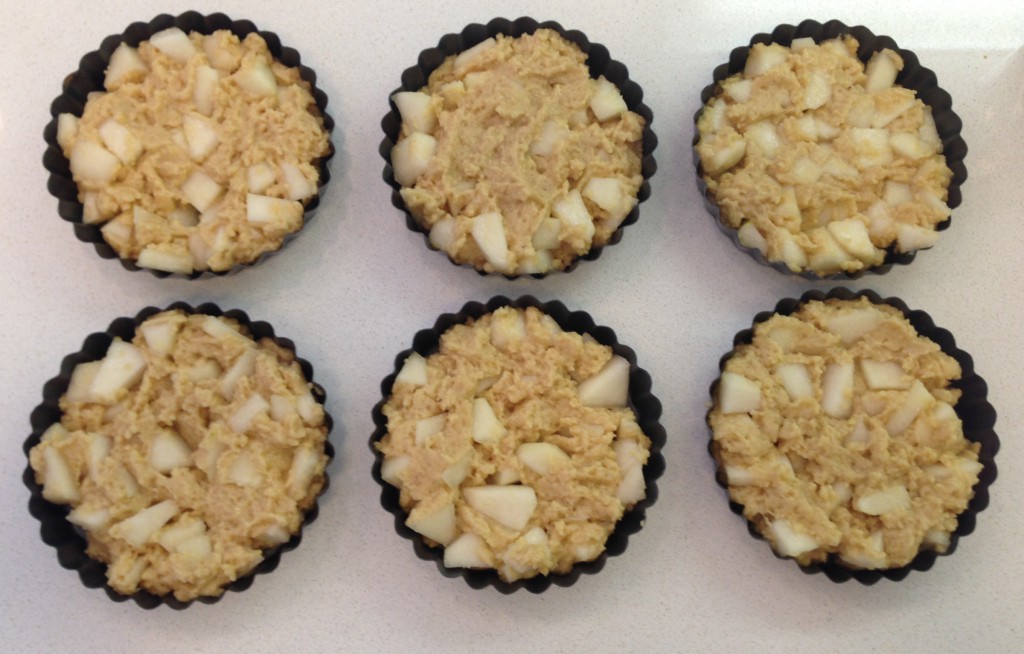 And the post-oven shot…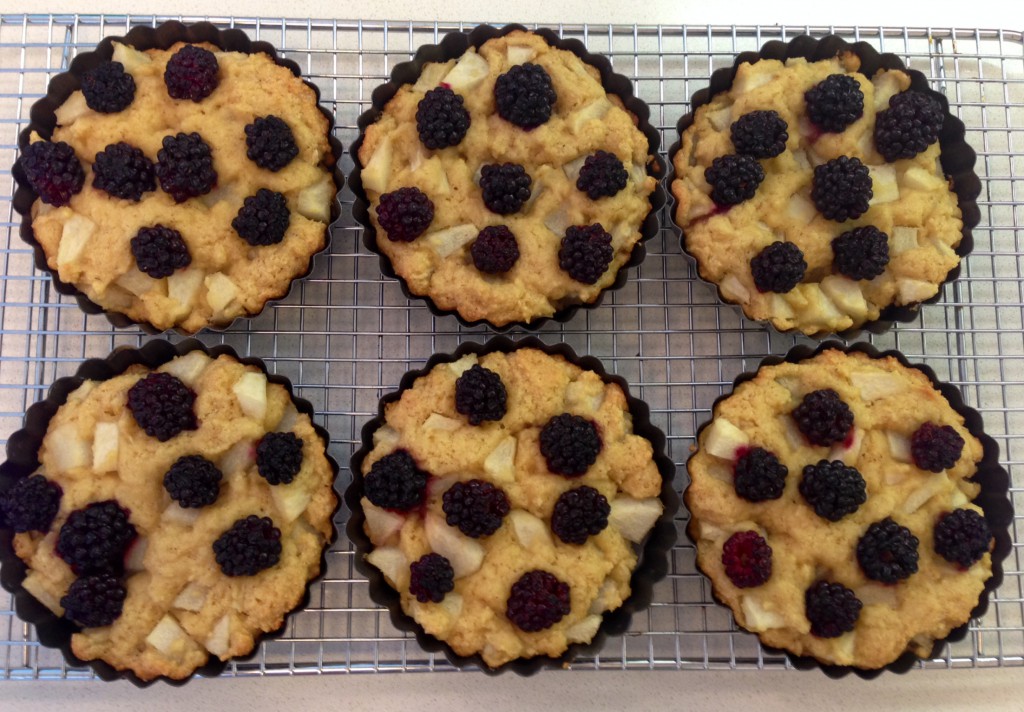 You need to let them cool down just a little bit, but then dig in and enjoy!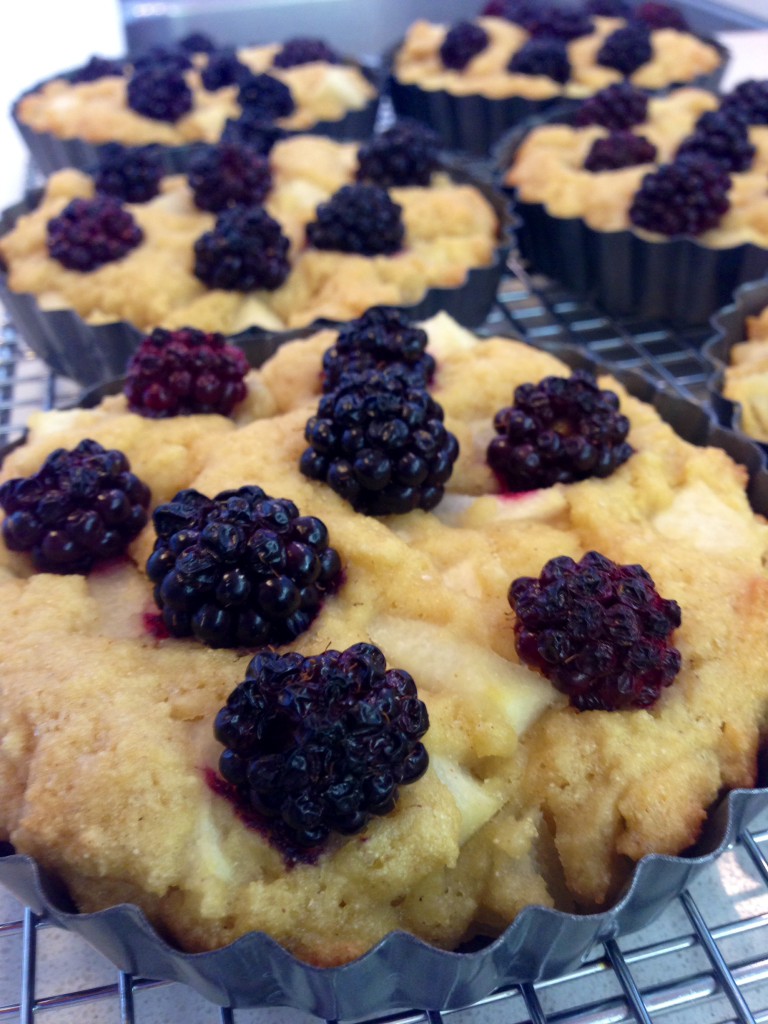 Pear & Blackberry Semolina Mini Tartes

The mini tartes are great for Sunday brunch or served for dessert with a scoop of vanilla gelato or coconut cream

Ingredients
3 pears, peeled and diced (3 cups)
1 Tbs. lemon juice
1 tsp. grated lemon zest
¼ cup (50g) plus 1 Tbs. (12g) turbinado sugar (or brown sugar), divided
¼ cup (50g) organic cane sugar
½ cup (100g) unsweetened apple sauce
1 tsp. vanilla extract
¼ cup non-dairy coconut yogurt (you can use regular plain yogurt as well)
1 ½ cups (250g) semolina flour
2 tsp. baking powder
¼ tsp. salt
¼ tsp. cinnamon
6oz (170g) fresh or frozen blackberries
Instructions

Preheat oven to 350°F.

Spray 6 mini tartlet pans with coconut oil spray.

Combine pears, lemon juice, zest, and 1 Tbs. turbinado sugar in bowl; set aside.

Whisk together 1/4 cup turbinado sugar, sugar, apple sauce, vanilla extract, and yogurt in large bowl. Sift in flour, baking powder, salt, and cinnamon, then stir until just combined.

Fold in pear mixture.

Pour batter into prepared pans, and dot with blackberries.

Bake 25 to 30 minutes, or until golden brown and springy on top.

Cool 10 minutes on baking rack.

http://blog.realpeoplekitchen.com/pear-blackberry-semolina-mini-tartes/

By Julia (Real People Kitchen)