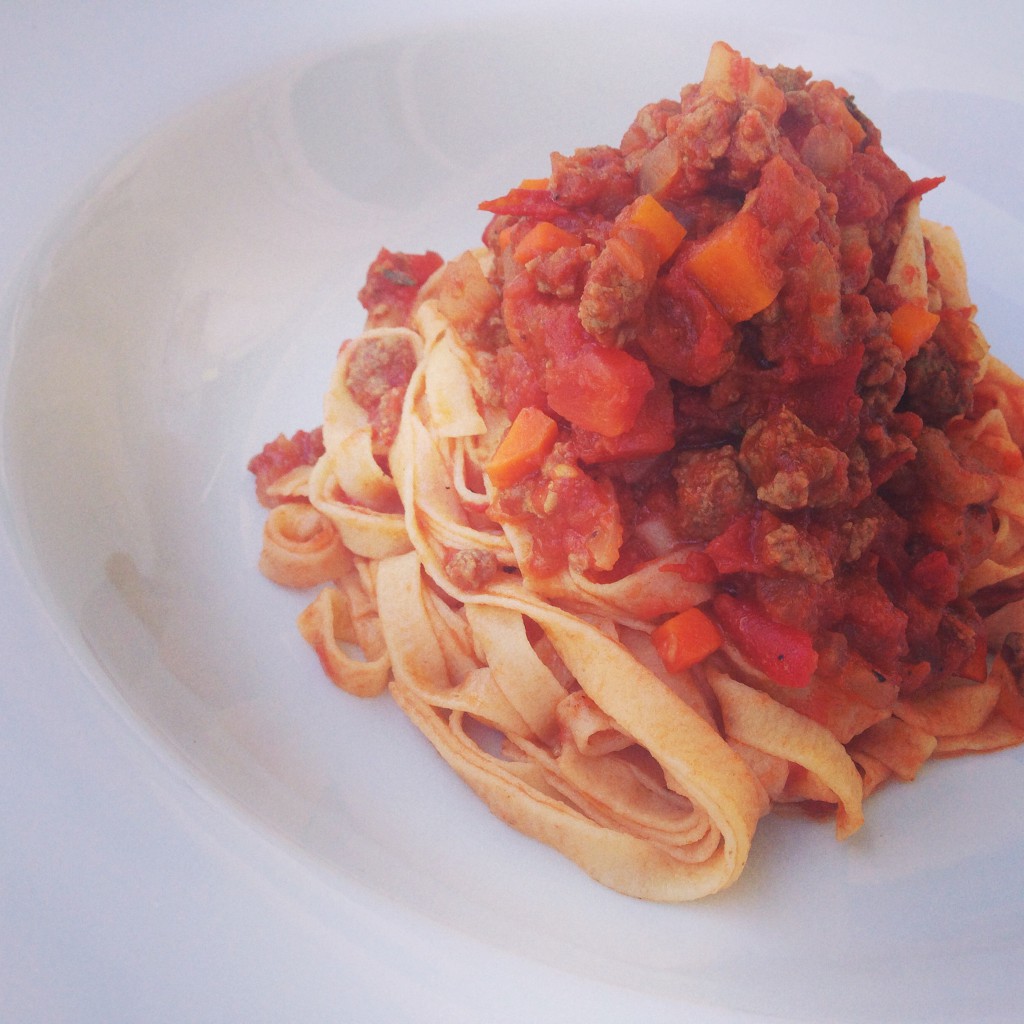 Once every week we have  Pasta Night at home! After many vegetarian pasta sauces over the past weeks, it was time for a meat ragù sauce – the classic Bolognese sauce, originating from Bologna, Italy.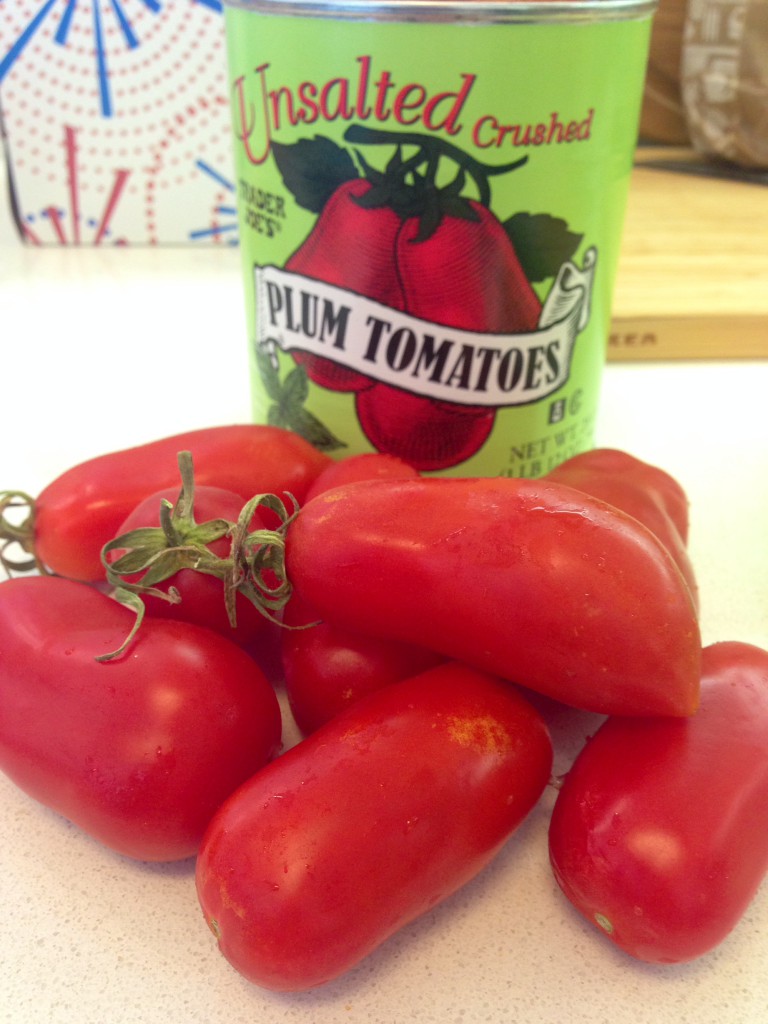 Many pasta sauce recipes only call for canned tomatoes. However, I like using both fresh and canned tomatoes. This time I used canned Plum tomatoes and fresh Roma tomatoes.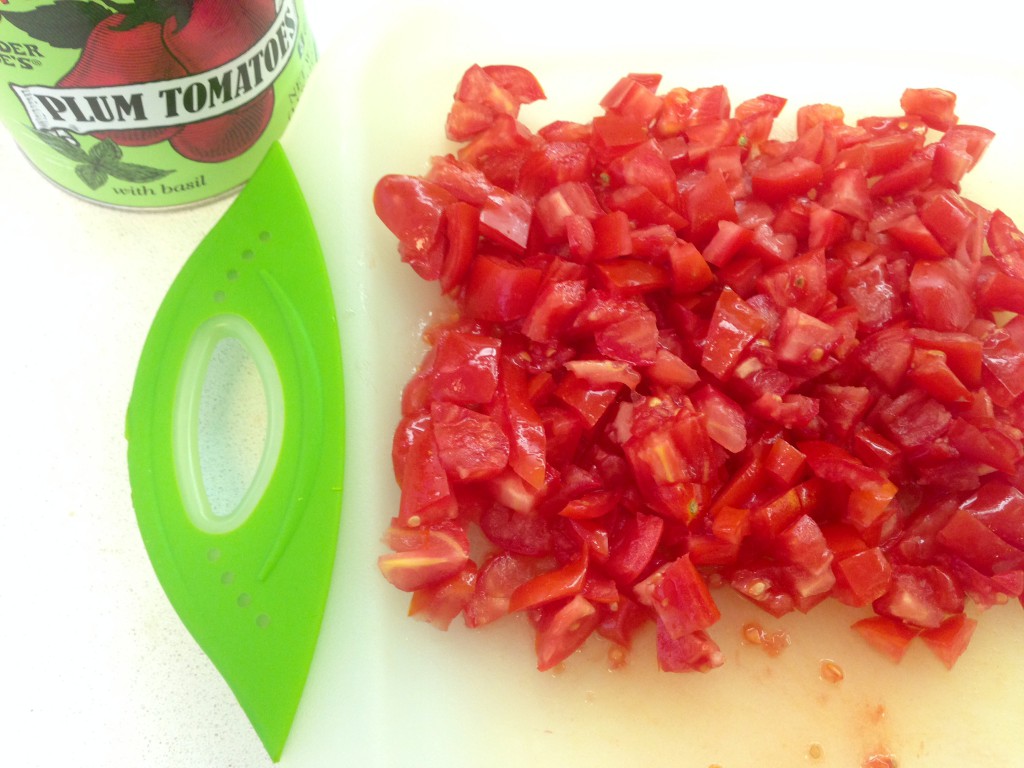 The classic vegetable mix for a Bolognese consists of diced celery, carrots and onions.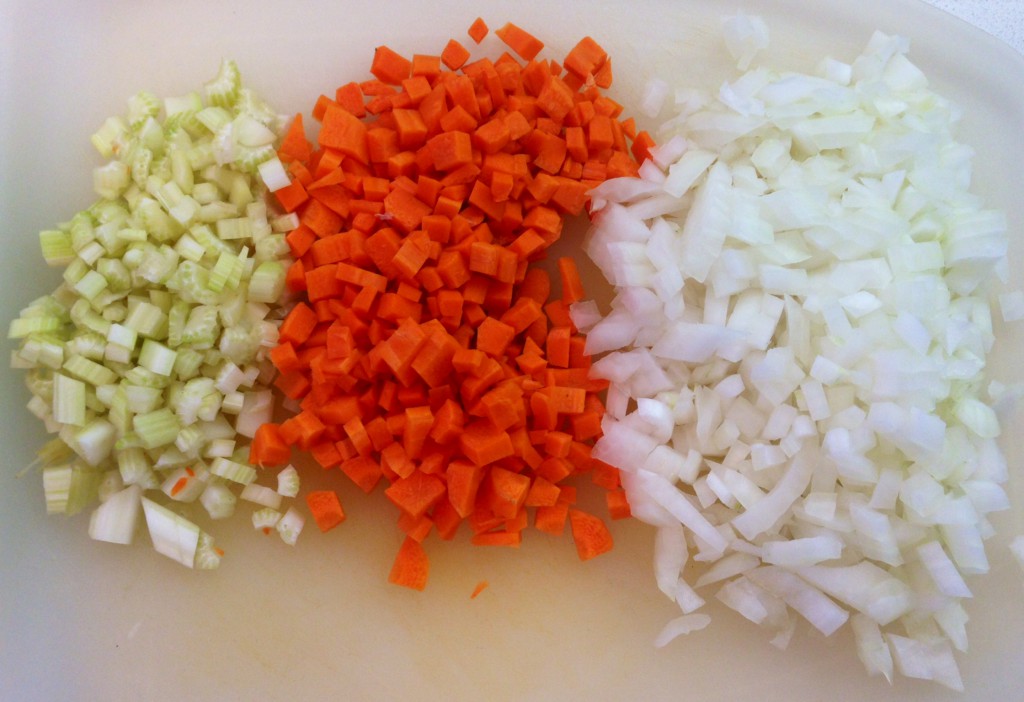 After sweating the veggies with the garlic, add the ground beef and cook until nicely browned. For the ground beef, I used the Burger Mix from my local delivery service Santa Monica Merchant . The mix is made from grass fed beef, not too lean and so tasty!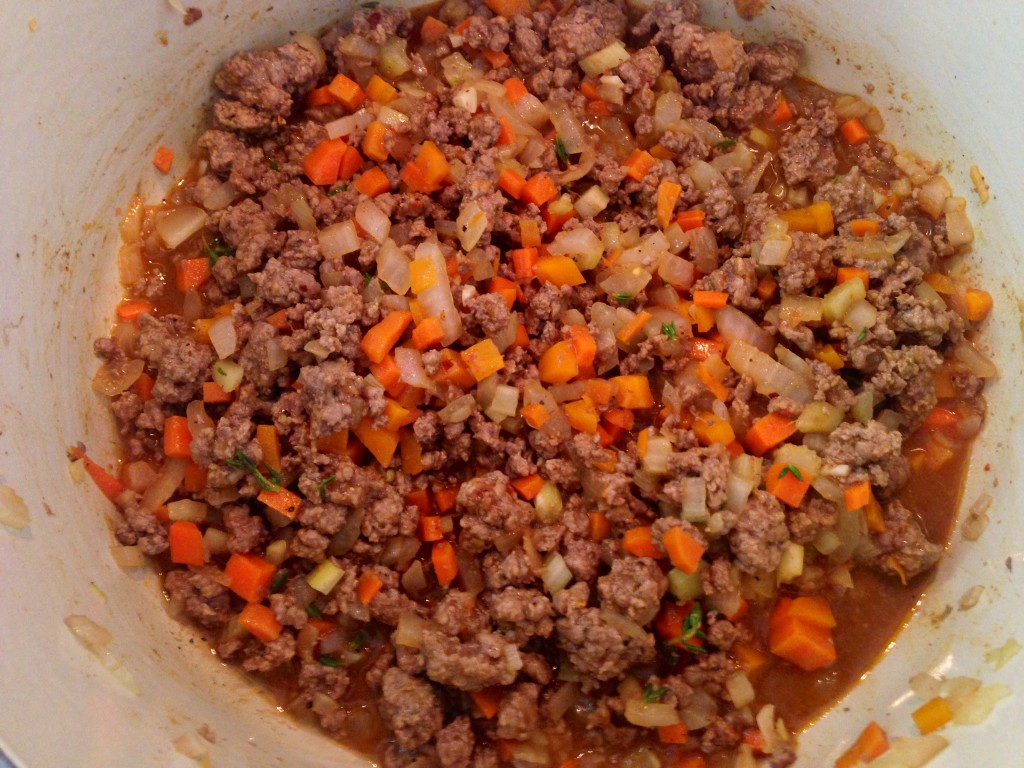 Add the fresh chopped tomatoes first …. Then add the canned ones…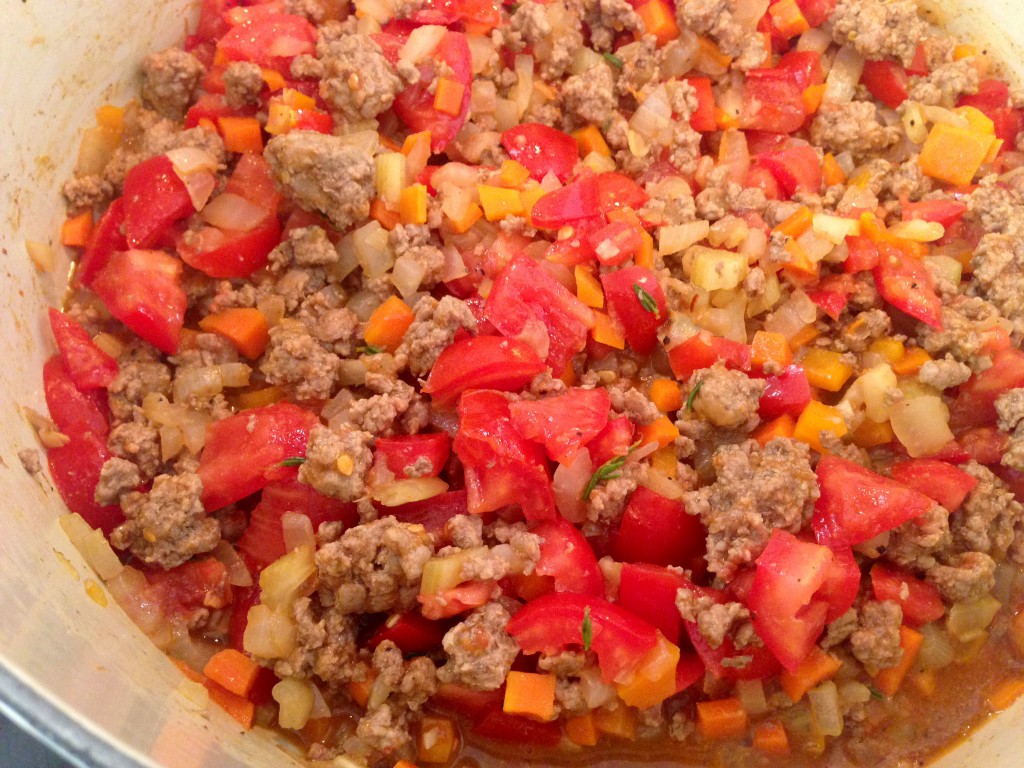 You need to let it simmer for at least 90 minutes. However, I prefer the full 2 hours. The longer you let it cook, the thicker it will get and all the flavors will get into the sauce.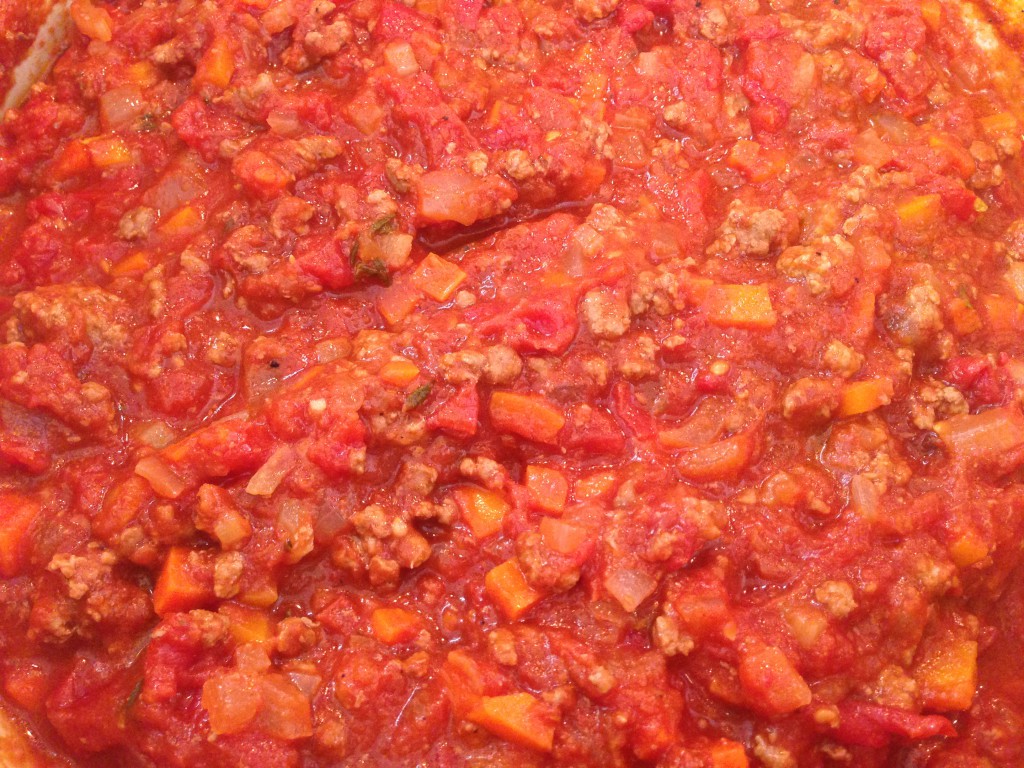 I convinced the hubs to make some Tagliatelle with me. And actually it was very much fun!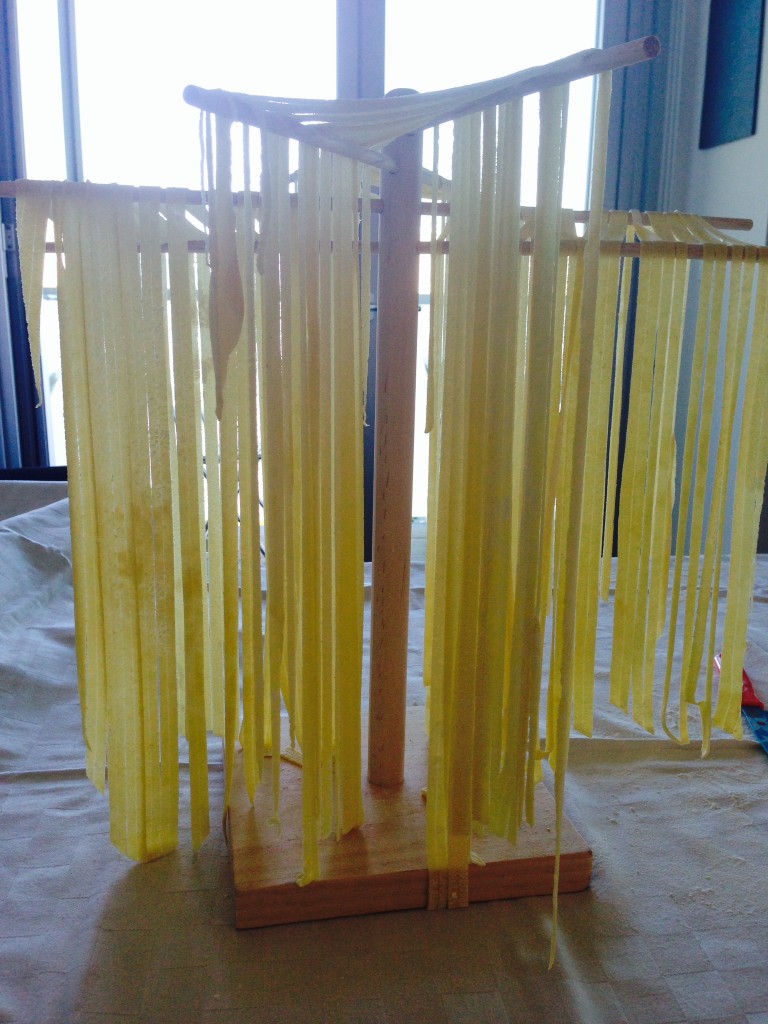 Don't feel intimidated by making homemade pasta. It's not too difficult and so much worth the taste. But also don't feel like you have to have homemade pasta. Just buy either fresh or a dried product of egg pasta. Italians only serve Bolognese with Tagliatelle or other broad, flat pasta shapes such as Papardelle or Fettuccine – but never with Spaghetti. The broader noodles soak up the sauce much better than their thinner colleagues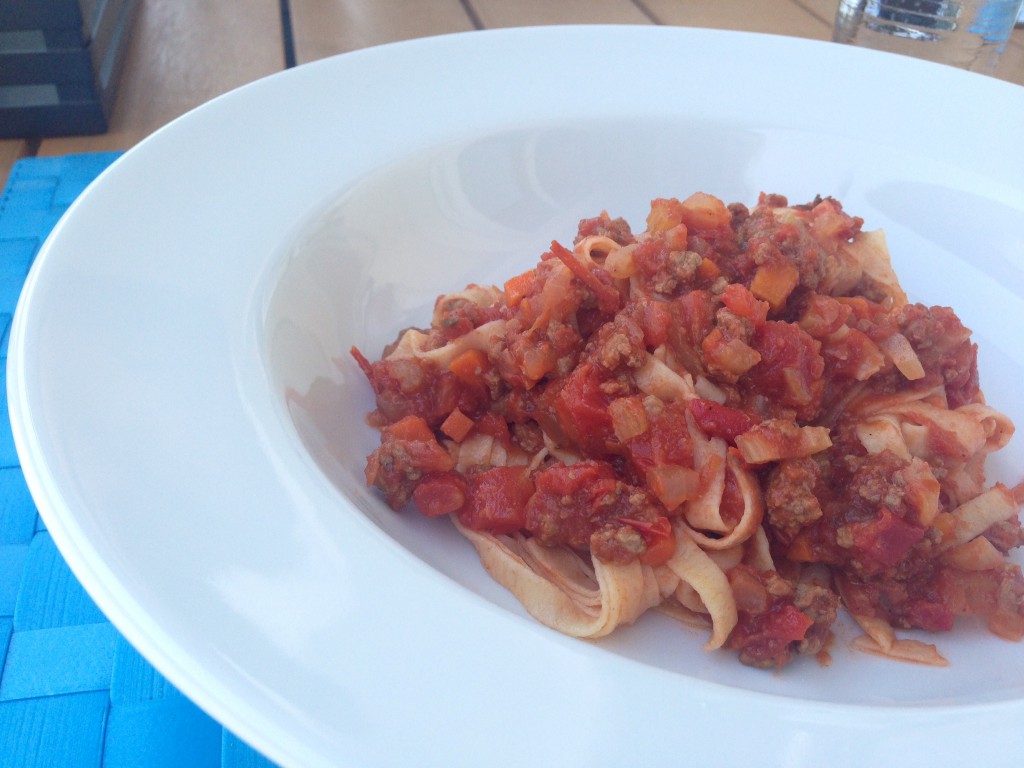 Bon Appetito!
Classic Bolognese Sauce
A classic using grass fed beef and both fresh and canned tomatoes!
Ingredients
1 medium white onion, finely diced
2-3 carrots, finely diced
2-3 stalks celery, finely diced
1 garlic clove, minced
1 Tbsp olive oil
1 lb grass-fed ground beef
1 Tbsp tomato paste
½ cup wine (white or red) or sub for vegetable broth
1 Tbsp fresh thyme leaves
1 tsp sea salt
1 tsp freshly ground black pepper
½ tsp red pepper flakes
1 lb San Marzano (or Roma) tomatoes, diced
1 large can crushed San Marzano (or plum) tomatoes
1 bay leaf
Instructions
In a Dutch oven or a large skillet, heat olive oil over medium-high heat.
Sauté onions and garlic for 4 minutes.
Add carrots and celery and sauté for another 8-10 minutes, stirring frequently.
Add the ground beef and cook for 6-8 minutes, while constantly stirring and breaking the meat into bite sized pieces.
Add the tomato paste, mix very well and cook for another 30 seconds.
Pour in the wine (or broth), add thyme leaves and season with salt, black pepper and red pepper flakes.
Let cook until wine has reduced significantly.
Add the fresh tomatoes first and let cook for 2 minutes.
Then add the canned tomatoes.
Stir everything well.
Add the bay leaf.
Let simmer without a lid for 90-120 minutes.
The Bolognese should be nice and thick.
Serve with your favorite pasta!
Note: If there are any leftovers at all, freeze the sauce for the next pasta night!
http://blog.realpeoplekitchen.com/classic-bolognese-sauce/
By Julia (Real People Kitchen)