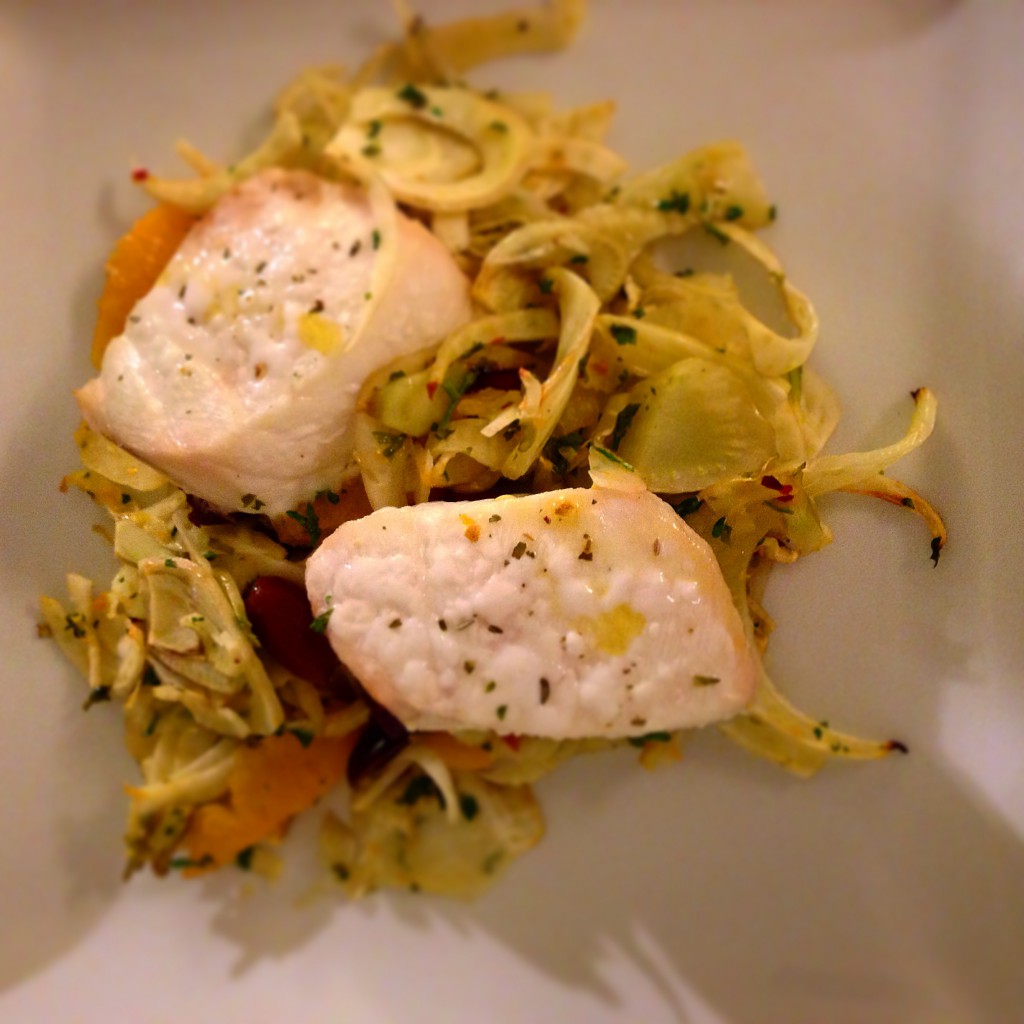 After another great and intense weekend of my yoga teacher training, it's really nice to get home on Sunday evening and go into the kitchen, start with a glass of Prosecco and prepare dinner. I mean I REALLY enjoy this! No need to go out and grab dinner somewhere else. Just relax with a bit of cooking and eating at home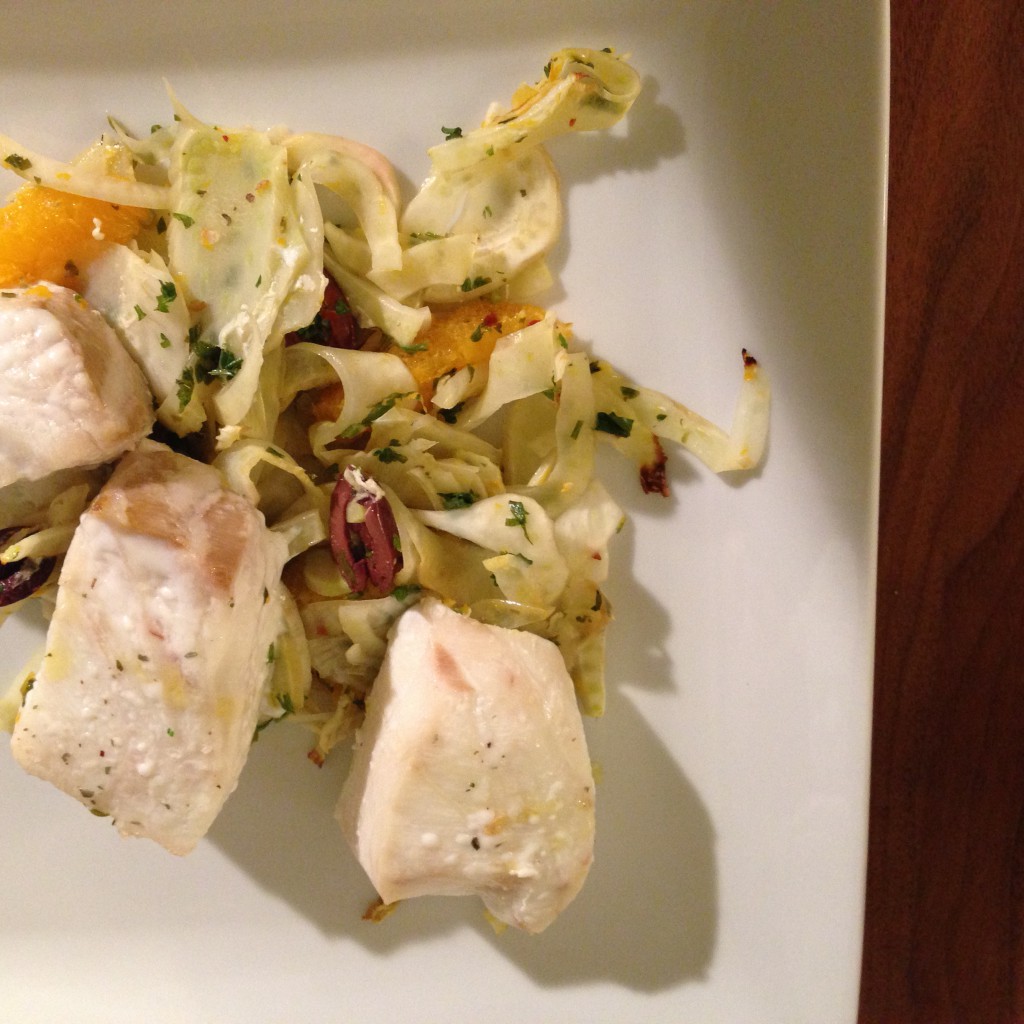 The past Sunday I made an awesome dish that is very easy to prepare and roast all in one pan in the oven. The halibut was from the local fishmonger, caught in Santa Barbara. If you can't get halibut or you would like to opt for a bit less pricey fish, you can use cod as well.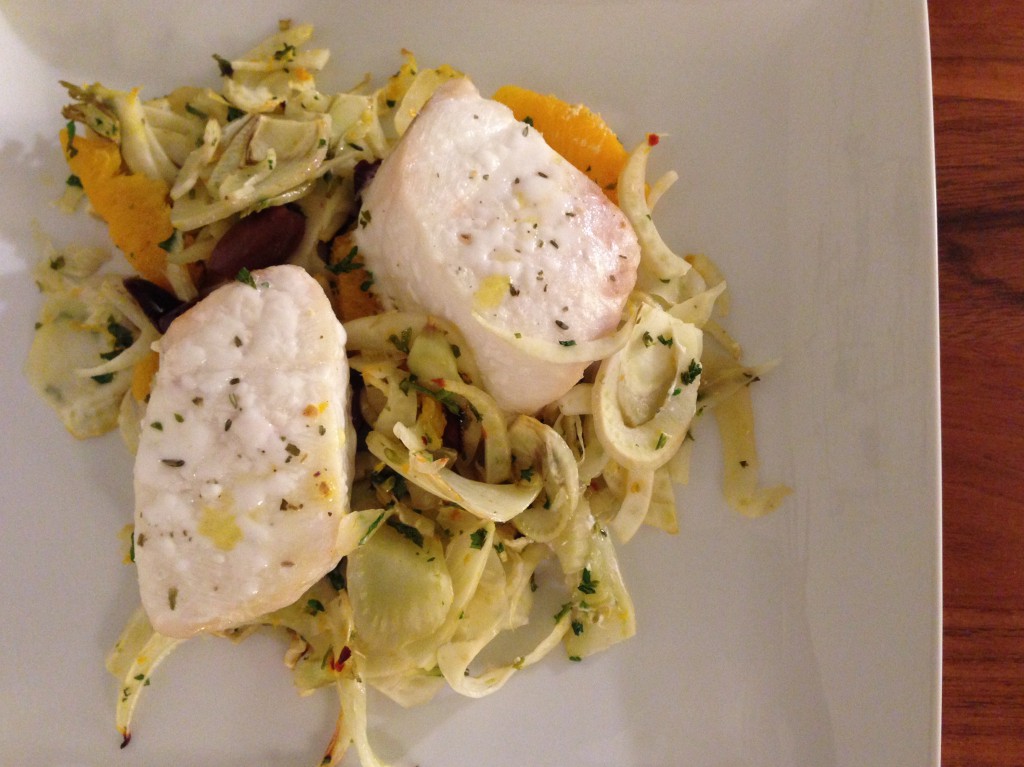 It takes about 15 minutes of preparation and 10-12 minutes of cooking. So overall, you can enjoy your dinner within half an hour. So there is still enough to relax with a nice glass of wine in front of the TV afterwards

How was your Sunday?
Roasted Halibut with Fennel, Oranges & Olives
An easy one-pan dish that's low carb and gluten free and yet satisfying and full of flavor!
Ingredients
1 orange
1 fennel bulb, trimmed
1 tablespoon extra-virgin olive oil
2 tablespoons pitted Nicoise olives, halved
2 tablespoons chopped fresh parsley leaves
1 teaspoon salt
1/8 teaspoon red pepper flakes
1 pound halibut fillet, cut into 2 inch thick pieces (alternatively, you can use cod)
1/2 teaspoon ground black pepper
Instructions
Preheat the oven to 375°F.
With a zester or fine grater, remove 1 teaspoon of orange zest. Use a large, sharp knife to trim away all the peel and pith from the orange. Hold the peeled fruit over the bowl and cut in between the membranes to free the orange segments; you should have about ½ cup. Squeeze the membranes over the bowl to extract the juice; you want 1/8 cup. (Reserve any extra for another use.) Add the zest and segments to the bowl.
Halve the fennel bulb lengthwise, slice it thinly and add to the bowl with the orange segments. Add the olive oil, olives, parsley, 1/2 teaspoon salt, and red pepper flakes. Stir to combine.
Spread everything out evenly into a baking-proof pan. Place the fish fillets on top. Sprinkle with remaining the 1/2 teaspoon of salt and pepper and bake for 10 to 12 minutes depending on thickness.
Enjoy!
http://blog.realpeoplekitchen.com/roasted-halibut-with-fennel-oranges-olives/
By Julia (Real People Kitchen)