We love pasta, sometimes just the regular (white) spaghetti, but also a whole-wheat kind or a gluten-free one, such as these Fusili made from brown rice and quinoa! And not to forget the low-carb "fake" pasta aka Zoodles made from spiraled Zucchini…
A tomato-based sauce that goes along with all of them is always great, but can get boring if it's always the same Marinara Sauce… Last week I made a Roma Tomato Sugo which was awesome, so this week I tweaked the recipe a little bit, using different kinds of Heirloom tomatoes and added some veggies to it.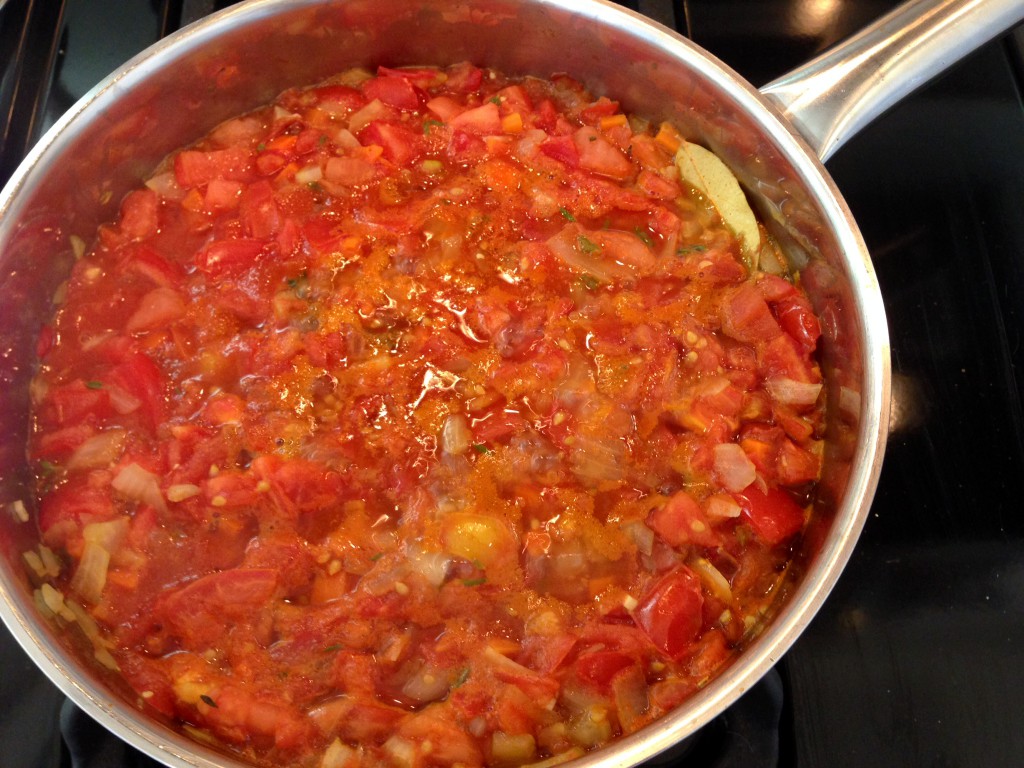 The vegetables – onions, carrots, celery – and the bay leaf are the classic ingredients for a Italian Bolognese sauce – minus the meat ;)… (A classic Bolognese recipe will be my next "project").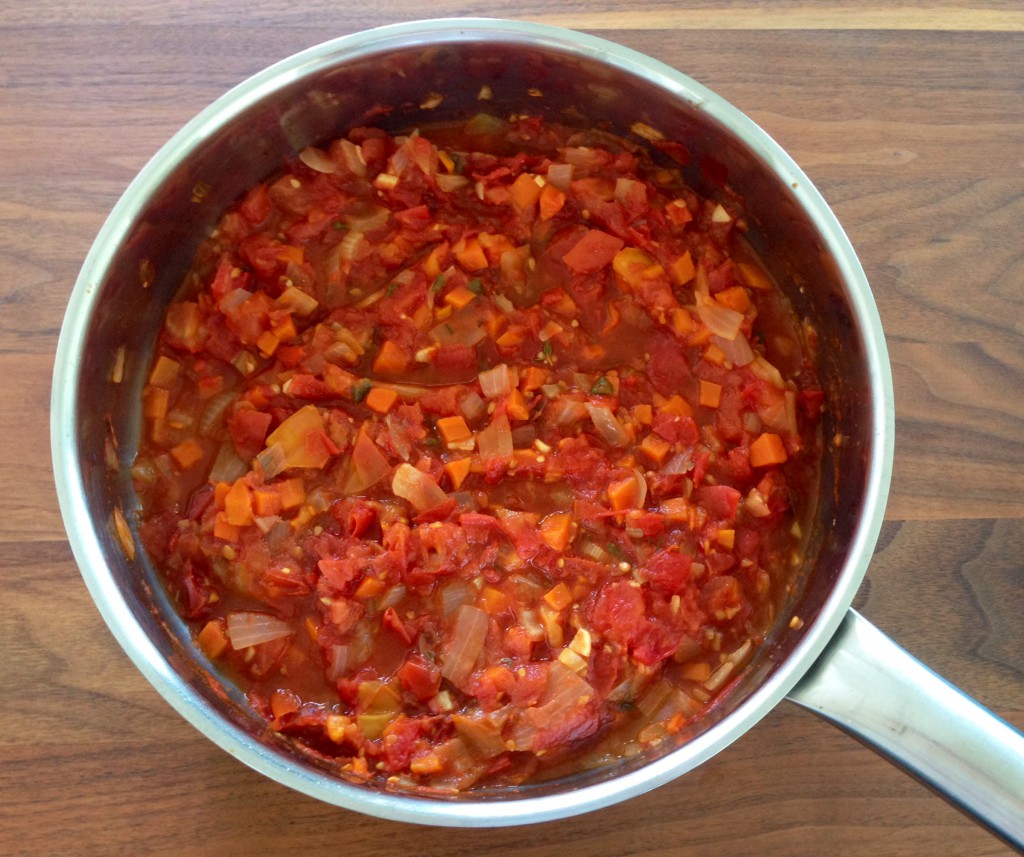 The key is to get the veggies to soften before adding the Heirloom tomatoes and then let the whole thing simmer until it has thickened and the flavors have incorporated into the sauce!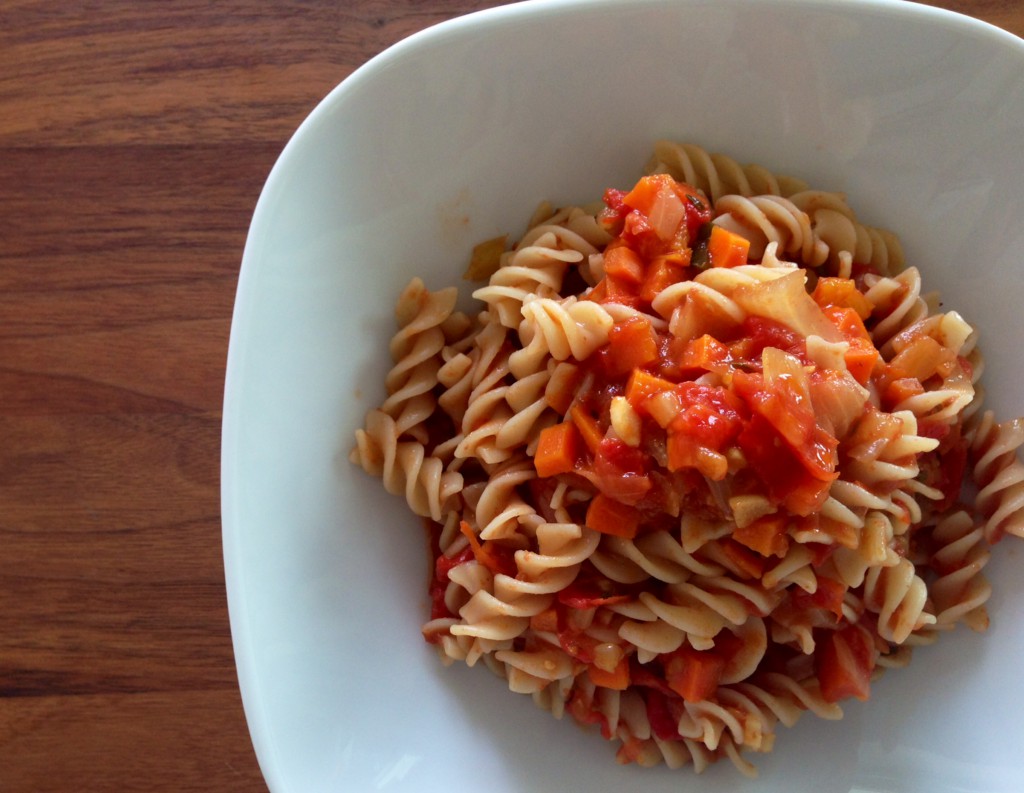 Veggies & Heirloom Tomato Pasta Sauce
Veggies and Heirloom Tomatoes for a twist on a classic Marinara Sauce!
Ingredients
1 Tbsp olive oil
½ white onion, diced
1 garlic clove, minced
1 carrot, finely diced
2 stalks of celery, finely diced
1 serrano chile, seeded and finely diced (optional)
2 lbs assorted heirloom tomatoes, coarsely diced
2 Tbs fresh thyme leaves
1 bay leaf
1 tsp coarse sea salt
½ tsp red pepper flakes
1 tsp balsamic vinegar
Instructions
In a large skillet, heat olive oil over medium-high heat. Add onion, garlic, carrots, celery, and chiles and sauté until onions are translucent and carrots have softened, for 7-10 minutes.
Add the chopped tomatoes, thyme and bay leaf. Season with salt and red pepper flakes. Bring to a boil.
Reduce heat, add balsamic vinegar and let simmer for 30-50 minutes w/o lid, until the sauce is nice and thick.
Serve with your favorite pasta (regular or glutenfree) or over zoodles.
Optional, add some fresh basil for garnish.
http://blog.realpeoplekitchen.com/veggies-heirloom-tomato-pasta-sauce/
By Julia (Real People Kitchen)